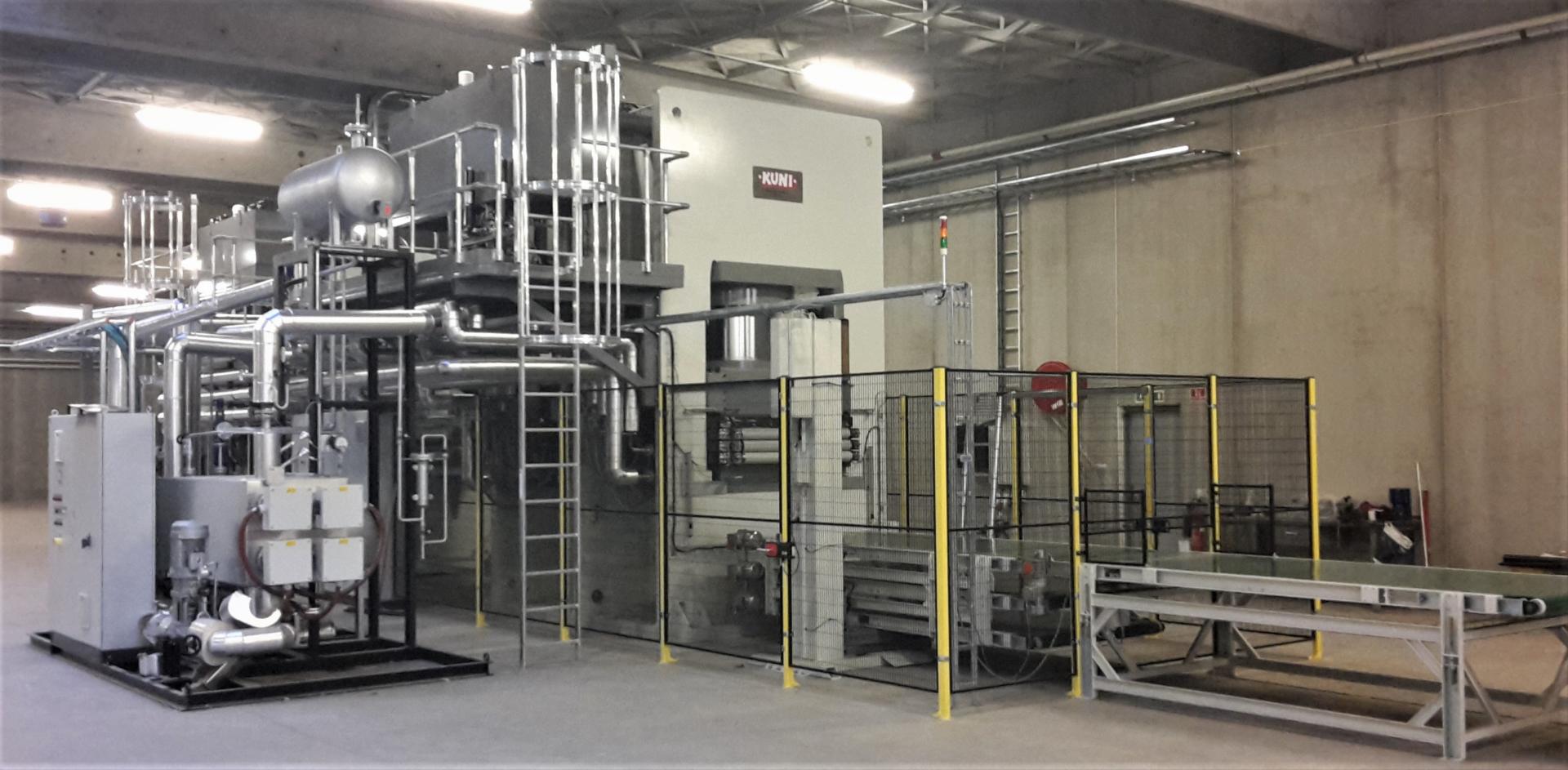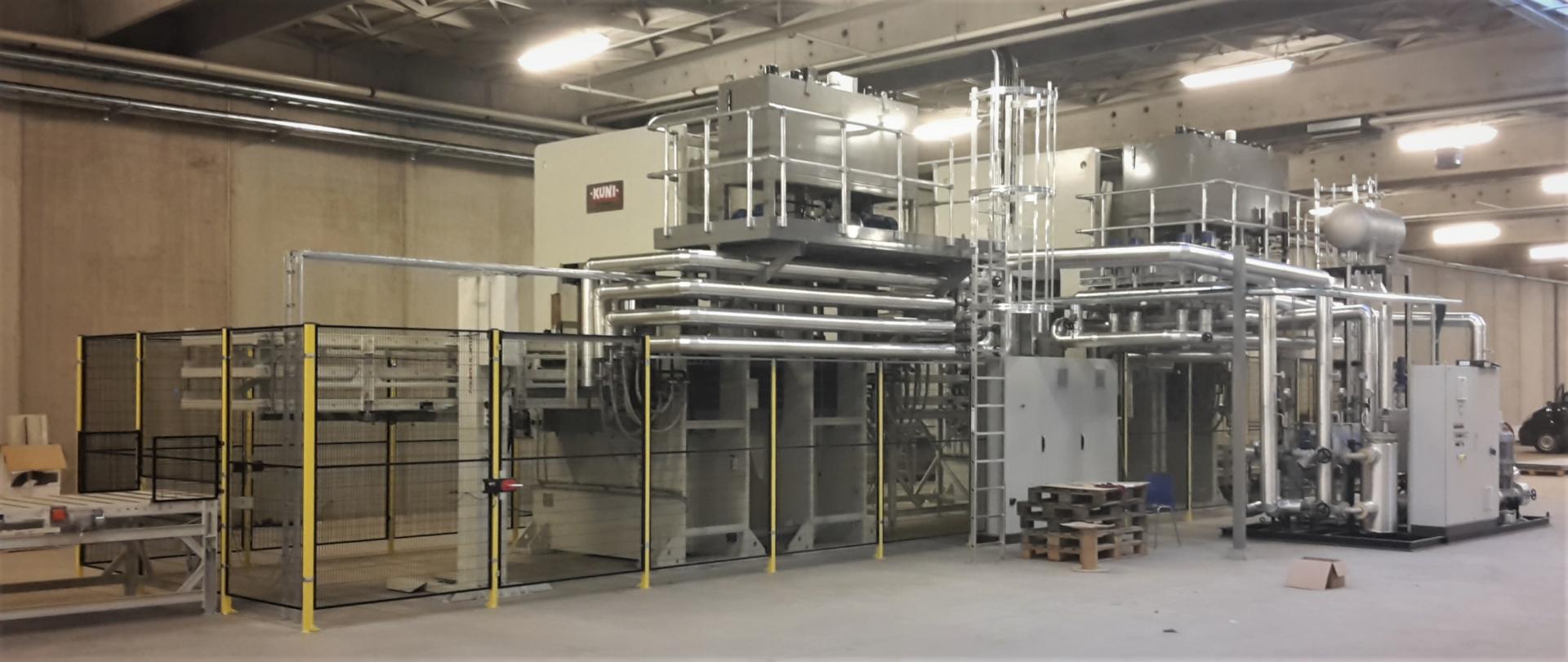 Hydraulic press line SGU 3800/1100-3
Hydraulic press line
• Platen size 3200 x 1400 mm
• 3 pcs. openings
• 3800 ton hot press 2 x Ø900 cylinder
• 1110 ton cold press 2 x Ø500 cylinder
• 300 kW boiler plant
• Complete pass-through system
Production press (SRDS 250/250)
Production press 250 tons
The press is built up as a 2-parted construction that is bolted together.
The upper part consists of cylinder and pressure shoe.
A filling drawer comes in from the back and puts material in a chamber into the lower part that has an integrated pressure shoe and via hydraulic cylinders mounted in the sides the material is compressed to an insulation product.
The construction is thus extremely maintenance-friendly and with the least possible total height.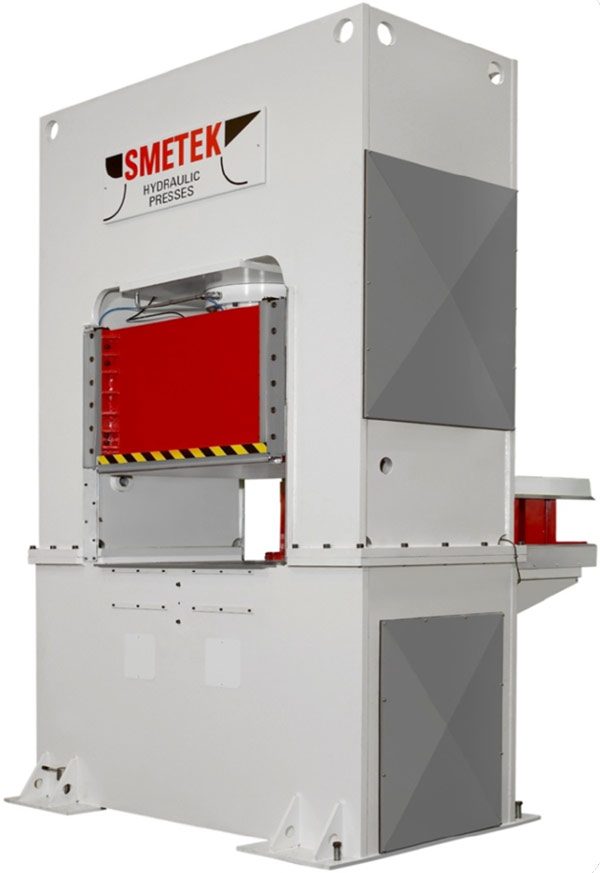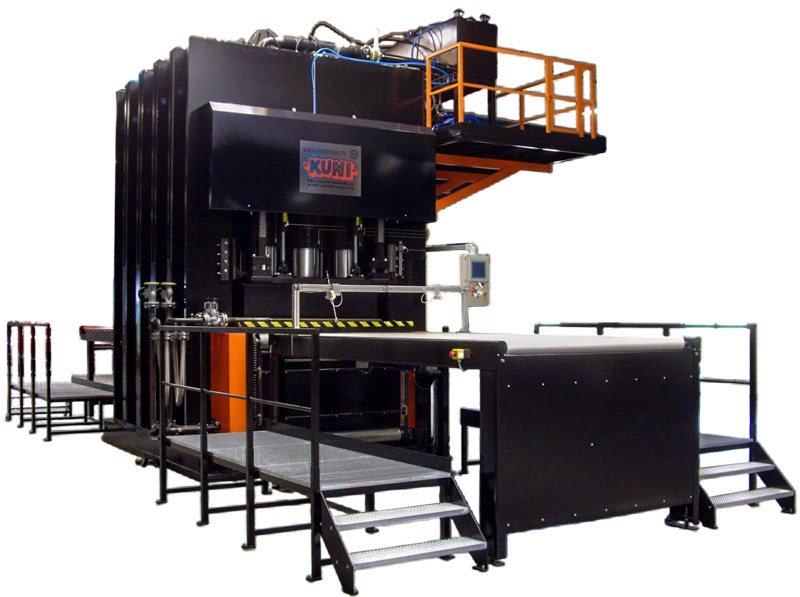 High pressure press
High pressure press 6000 tons
A welded ring-frame construction, where the pressure cylinder and the platens are mounted in the middle.
The platens are doubly channel drilled and make use of the counter current system, providing a very accurate heating.
This system also has the possibility for cooling in order to make the product stable.
The press has 15 pcs. Ø380 mm cylinders and it weighs approx. 90 tons.
Form-/Special press
The photo shows a machine line with 8 hydraulic presses.
Emptying of the forms takes place from the back by means of a robot solution and in front the work piece package that consists of a number of glued wooden veneer plates is mounted manually.
The product turns out a moulded designer chair.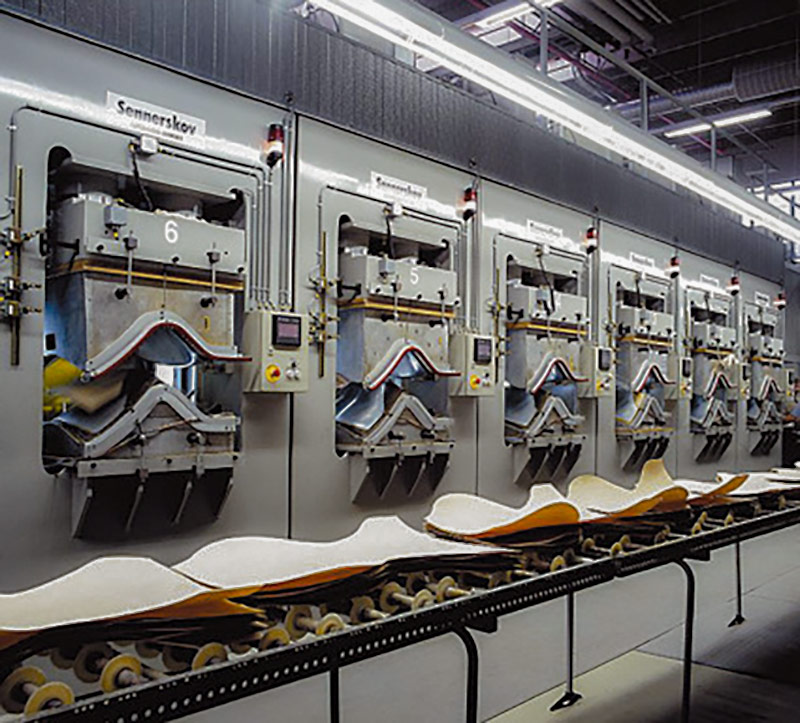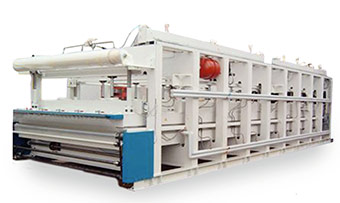 Sandwich press
The press is used for compaction of a combination of pre-glued products into a sandwich.
This type only has a rather limited pressure and slight heating of the platens, but the platen area is very large, 3.6 x 12 meters.
A 2-parted through-feed belt is integrated in the press for in-/outlet conveyance of the product under continuous operation.
Production press 1110 tons
Moulding press 1100 tons
Heavy welded steel frame construction, The press is used for embossing wooden product.
The platens are connected to a heating system that can control the temperature individually on each platen very accurately.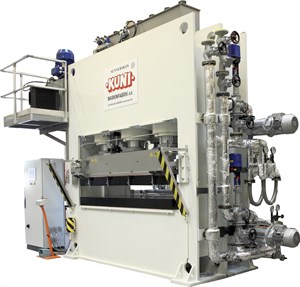 Stucco press
1500 tons cold moulding press
The press has the function to secure a round steel material, which is cold moulded in the end of a stucco cylinder.
The outer dimensions of the machine
are 2100 x 2400 mm
and the weight is 12.5 tons.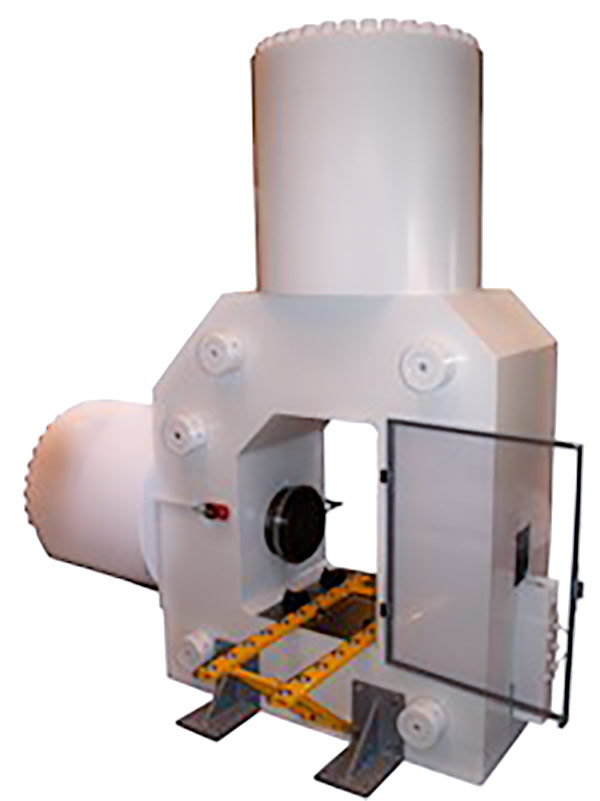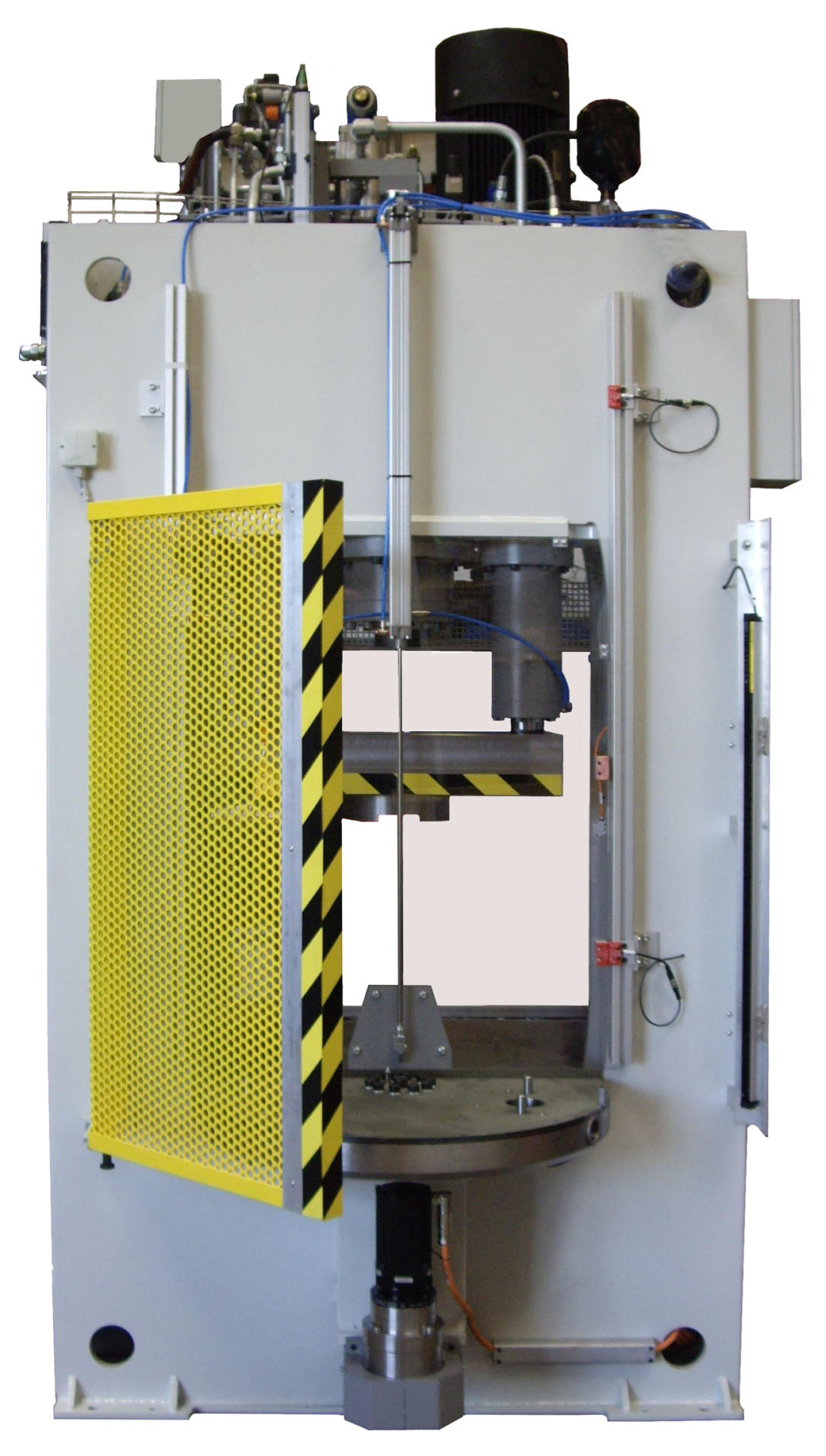 Mandrel press
This press is a welded steel construction with an integrated index table.
The functioning takes place by means of a backstop fixating a work piece that is expanded using a pressure mandrel and the index table turns a new work piece into position.
A robot solution dismounts and mounts new work pieces continuously.